Knebworth Neighbourhood Plan 2019 - 2031
[estimated]

Ended on the 9 June 2021
It was evident from the comments received during the preparation of the Neighbourhood Plan (KNP Consultation Statement, 2019) that residents were extremely worried about the strain on local services and community facilities due to the huge increase in housing proposed by the NHDCLP. In particular, concerns were expressed about the impact on the GP Surgery, the potential loss of community services such as the library and the allotments. Security, safety and easy accessibility to all cropped up as a matter of interest in all areas.
In addition, the working group looked at the sports and leisure facilities available, plus recreational green spaces and local green spaces. The importance of such open spaces was never more obvious than during the first Corona Virus outbreak where socialising could only be undertaken outdoors, in order to maintain social distancing.
In short, aspects of daily life that contribute to everyone's health and wellbeing are covered in this chapter. A table showing the community facilities and services identified can be found in Appendix C and a table showing all the green and recreational spaces considered for protection can be found in Appendix D . A section on Non-designated Heritage Assets can be found here: Policy KBEF6 Non-designated Heritage Assets.
The aim of the wellbeing policies is to ensure that residential development contributes to the sustenance or enhancement of community facilities and public services, that the provision of new facilities is evidenced by local needs in collaboration with Knebworth Parish Council and that all new amenities, facilities and buildings are suitable for access by people of all abilities.
The Objectives that were developed from the Knebworth Neighbourhood Plan Vision Statement and which led to the development of the wellbeing policies were:
I Retain the existing architectural character of the Garden Village, conservation areas and other heritage assets
L Ensure that all current and future community facilities, amenities, medical resources and service provision are inclusive, easily accessible and do not diminish in terms of quantity and quality to serve the growing population
M Protect, enhance and increase accessibility to and the number of green spaces for recreational and health use
N Identify options for provision of a community information space
U Protect key views and character areas from the negative impact of new development
V Preserve existing and design integral wildlife corridors and habitats into new developments to improve biodiversity, reducing public lighting to the minimum needed to ensure residents' safety where light pollution impacts wildlife
Policy KBW1 Community Facilities and Services
Commercial or residential development will only be supported where it sustains and enhances community facilities for the benefit of all residents, so that all community facilities, including medical and public services are increased in proportion to that of the increase of the population and trends at that time.
Development proposals will be required to identify their likely impact on facilities and services to demonstrate how any such impacts will be addressed, including the provision of new facilities, if a shortfall caused by the development is identified by a relevant provider or statutory body. This provision should be based on evidenced local needs and discussion with KPC and NHDC Planning.
The retention of a GP Surgery within the village is an essential requirement when considering any future development proposals.
Development will only be supported if it facilitates and increases the opportunity for recreation and improving health and wellbeing.
Planning Applications must demonstrate that all new services, amenities, facilities and buildings are suitable for access by people of all abilities.
7.2.1 GP Surgery
The Knebworth GP Surgery has been established in the centre of the village for over 60 years. It is a partnership surgery with The Marymead Practice, which is based in Stevenage, with a combined list of approximately 12,500 patients. It is expected that this number will increase considerably in the next few years as a result of new housing developments in Knebworth and surrounding districts within the practice boundary area. This area includes nearby villages of Woolmer Green, Datchworth, Oaklands and some parts of Codicote, which are all subject to large, new housing developments over the next few years as a result of allocations by their respective Local Plans.
Feedback from the initial survey highlighted residents' existing concerns regarding access to health provision and difficulties in getting GP appointments. The strength of feeling and relative importance of the issues was demonstrated in the written comments relating to the need for more GPs. It had been proposed in 2004 by the local Primary Care Trust, then the relevant health body, that it was considering the closure of the Knebworth GP Surgery with services being relocated to a new super-surgery in south Stevenage. From Knebworth Parish Plan 2007, there was a clear consensus that it would be unreasonable and environmentally unsound to expect a village population of approximately 5,500, many without personal transport, to travel to Stevenage for day to day GP services.
The Surgery renewed the lease on the existing premises for a short term. Continuation of the GP provision remaining in the village was valued by residents, however new premises were required. As a result, plans were developed for a new GP Surgery if a suitable new location could be found within the village. The plans had been shelved for some years, but in March 2015 an agreement was reached between Hertfordshire County Council and a developer to redevelop the village library premises into a brand new co-located surgery/library site in St Martin's Road.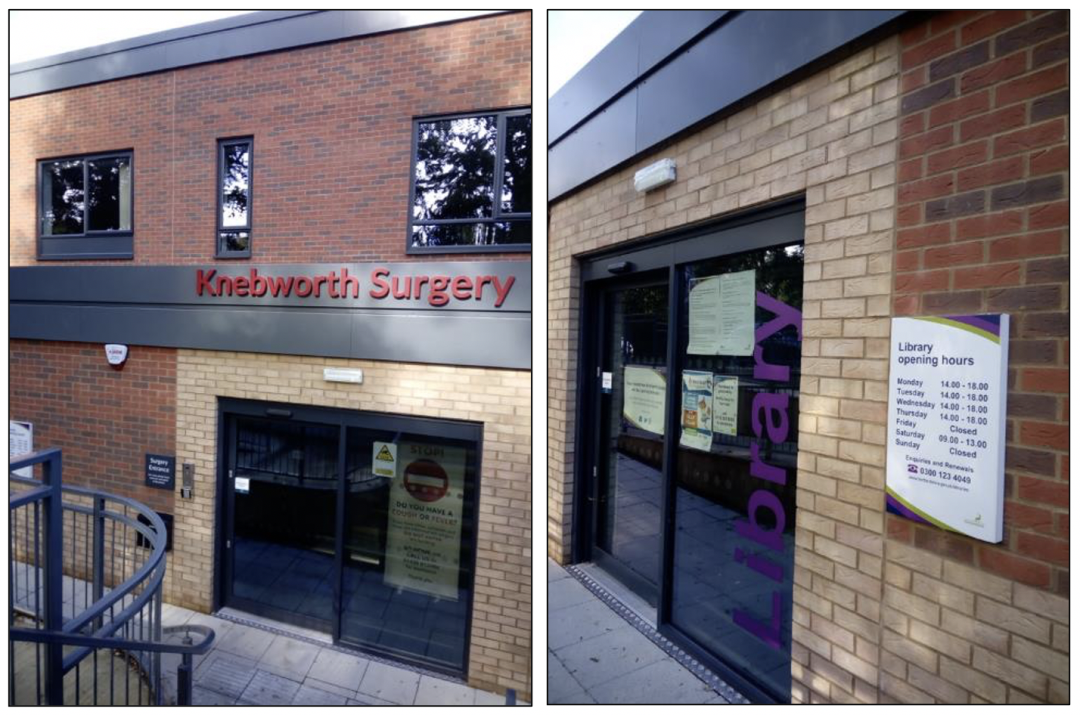 Figure 17 New GP Surgery (left) and Library (right)
One significant concern of the Practice is that of the number of new developments for the elderly within the boundary area. Each patient is allocated a premium by the NHS and this will provide more income through capitation fees, however, this is unlikely to be sufficient to fund an additional GP and elderly patients often have significant health issues. Locally there are three nursing homes, a retirement complex of 26 homes for the over-60s and a current development for 47 assisted-living homes.
Funding for surgery premises is from a different, central locality budget and expected population growth has to be considered when determining the requirements for a new surgery. A pharmacy is included as part of the development, which is run as an independent business by Lloyds Pharmacy.
The Practice has introduced measures to try and reduce GP appointment waiting time such as employing a Clinical Pharmacist, Specialist Nurses and Nurse Practitioner, all of whom can deal with issues that do not require a doctor. The new surgery will also have additional consulting rooms available.
In addition, many medical hours are used for queries relating to social care rather than health; if social care in the village could be improved, it would free up doctors' time for medical care. To this end, a GP Link Worker for Social Prescribing is now attached to the practice. This is a new service. The practice has a very active Patient Participation Group and volunteer members provide an excellent link between patients and staff, some are trained and run a regular programme of Health Walks, they hold coffee mornings. They have noticed loneliness and isolation is a big problem.
7.2.2 Library
The library has always been conveniently located in the centre of the village and, as a valuable asset to the community, the Parish Council requested that the site be included in the Assets of Community Value List in September 2014 and NHDC confirmed its listing on 21st November 2014.
The new library space, combined with the GP surgery is similar in size, but with a more flexible layout which can be used for other purposes and has potential as a new, modern facility. Because the premises are shared with the pharmacy and surgery, it is estimated that the library could benefit from increased usage and therefore be a greater benefit to local residents.
In 2018 Hertfordshire County Council consulted on the future of library services in the county and, with a requirement to save money, proposed that some of the smaller village libraries should be run by volunteers with support from a central library team. Knebworth volunteers also provide tea, coffee and games while the library is open on Monday afternoons, enabling the community to socialise together. Now completed, the new building could provide the much-needed central space for information on medical, social and local assistance, a hub where local voluntary groups, sports and social clubs can publicise their activities and encourage volunteer recruitment.
7.2.3 Neighbourhood Amenities
As a Category A village, Knebworth's facilities are expected to support communities beyond both village and parish boundaries. Development therefore is expected to sustain and enhance current facilities and, wherever possible, to assist in the creation of new ones, or the refurbishment of existing facilities.
Knebworth village was considered to be a village suitable for growth in the emerging NHDCLP, but in order to promote the ongoing prosperity, health and wellbeing of the village and other communities, it is essential to conserve and enhance Knebworth's essential amenities and facilities. As a result, the Steering Committee felt it was important to draw up a list of community spaces and facilities which were considered to be important to village life and must be retained, unless new replacements are provided which expand and improve such facilities and/or equipment for the benefit of the community.
Knebworth has a range of community and recreational facilities and, from the responses to public consultation, it is evident that these are highly valued by the local residents. Support for the safeguarding of key community assets is embodied in a number of Neighbourhood Plan objectives.
As a consequence of Knebworth being planned as a Garden Village, there is a character to Knebworth that includes wide, open spaces, a large degree of openness to the area and many green spaces. Green spaces are an essential feature of the village and contribute to its character, adding to the distinctive open rural feel of the village and harmony with the surrounding landscape, while providing quality recreational space and wildlife habitat.
In order to preserve what is considered to be the identity of Knebworth, a list of all local green spaces, recreational facilities and important buildings that were considered to be landmarks or of local historical interest was formulated.
These lists were then reviewed by the Steering Committee and condensed into lists for consideration using strict criteria. The lists were entered into two spreadsheets, one for green spaces and one for buildings of interest. A workshop comprising of members of the Wellbeing Group, the Steering Committee and our professional planning adviser was undertaken. Each area and building were reviewed individually under the same criteria to determine the most important ones. The spreadsheets were completed according to the answers given by the workshop members. The Local Green Space Assessment can be found at Appendix D .
The designated Local Green Spaces are all in close proximity to the community, are local in character and are not extensive tracts of land as advised in para 100 of the NPPF (NPPF, Feb 2019). Each is demonstrably special for one or more reasons.
As previously highlighted, Wellbeing Group meetings identified the need for a community space for information on local safety and security issues, plus health and social issues, signposting towards available services and including access to these amenities. A space dedicated to available services would be promoted as a self-help means of reducing GP Surgery visits, perhaps helping to meet the need identified by the GP Practice.
Feedback from the initial survey (KNP Consultation Statement, 2019) indicated that there are sufficient places of worship for different faiths in Knebworth. The contribution of the churches is valued, even by those who do not regularly attend, there is a general lack of awareness regarding the churches' contribution to the community through such initiatives as the Knebworth Family of Churches, formed in June 2008.

Figure 18 St Martin's Church (left) and St Mary's Church (right)
Working under the banner of the Knebworth Family of Churches (KFC), the churches have launched such events as the Good Egg Club (for children in the holidays), study groups and the Good Neighbour Scheme, which provides practical assistance to people in need.

Figure 19 Trinity Church (left) and St Thomas More Church (right_
The wider community greatly appreciates the work of voluntary groups although there seems to be a lack of information about what is on offer and some of the groups are struggling to find volunteers.
Knebworth Cemetery is located just south of the village centre in Gun Road Gardens. It is available for burials of any faith. It is one of seven cemeteries managed by North Herts District Council, approval for use as a burial ground was agreed in June 1978. Information obtained from NHDC indicates that cemetery provision in the region has sufficient capacity for many years to come. It has been subject to flooding in the past.

Figure 20 Knebworth Cemetery, Gun Road Gardens
7.2.4 Sport and Leisure
Outdoor sports and leisure facilities are important features in Knebworth. These community consultations revealed that sports facilities were inadequate and required additional provision. Many residents expressed an interest in extending the range of sports and leisure facilities by collaboration with sports clubs and schools, there may be scope for using the contributions from the Community Infrastructure Levy (CIL), which would be generated by new developments in the parish
According to the NPFA Six Acre standard (Fields in Trust, 2015) the Overall Minimum Standard for Outdoor Playing Space is 2.4 hectares per 1000 population. Currently Knebworth has a population of around 5,500 people which will increase as a consequence of new developments to in the region of 8,000 residents.
KPC currently manages three equipped play areas, Watton Road Recreation Grounds, Lytton Fields play space and King George V play space, Old Knebworth, and Settle Homes manages another, Cherry Close play space. However, there is currently a deficit of some 6.5 Ha, which is likely to grow to a deficit of 12.7 Ha once the new developments have been built.
The Parish Council will actively seek a site for a new indoor and outdoor sports hub within the parish boundary to include an artificial games pitch, a pavilion, changing facilities, parking and ancillary social facilities to serve the growing population.
A new Play Hub could include a range of interactive outdoor play equipment for all ages and would be a central point of focus for outdoor play provision for Knebworth and its surrounding communities, acting as a 'destination play area'
A Sport and Leisure survey was sent to all the numerous clubs, societies and sports groups that use facilities in Knebworth (Knebworth Parish Council, 2019) . Despite there being few responses, there were certain areas that highlighted specific needs within the current community. Additional growth will bring increased pressures.
The facilities and amenities as detailed in the paragraph below have been identified as needing expanding or improving if more houses are built in Knebworth. Therefore, in order to ensure adequate open spaces are provided for sports and leisure activities, reasonable financial contributions will be required, as appropriate, from each developer to fund additional healthcare and leisure services within the village in accordance with the obligations detailed within the NHDCLP.
Community priorities in terms of additional local facilities to be provided as a result of new development include a centrally located community leisure facility providing a purpose built multi use indoor sports hall with gym and dance facilities, all weather-pitch, changing rooms, storage, meeting rooms and associated administration and parking facilities; this could be a shared facility with the proposed school(s) and used by other village organisations. This facility along with a new allotment space of at least 1.5 Ha and more health care professionals located in the village have been included in the Action Plan in Appendix E .
KBW2 Local Green Spaces
The areas listed below are designated Local Green Spaces. New development will only be allowed within designated Local Green Spaces where very special circumstances can be demonstrated in accordance with the National Planning Policy Framework:
LGS1 Watton Road Recreation Grounds
LGS2 Cherry Close Green
LGS3 Stockens Green
LGS4 St Martin's Green
LGS5 Allotments, Watton Road
7.3.1 LGS1 Watton Road Recreation Grounds
This is the largest and most important green space in Knebworth situated off Watton Road (SG3 6AH). The Recreation Grounds opened to the public in 1929 (Knebworth Through Time, 2011)This is a formal grassed open space with an area around 5.525 Ha. There is a small pond which attracts wildlife, although this needs some maintenance work.

Figure 21 Watton Road Recreation Grounds pond and wildlife
The grass is well maintained and there are five avenues of lime trees which divide the space with accessible footpaths. Three sides of the space are flanked by hedges and fences with the fourth side looking out onto open fields providing an openness to the space. It is along this eastern border that the children from Knebworth Primary School planted thousands of daffodils to mark the Queen's Golden Jubilee; this is marked as Jubilee Walk on some maps. The recreation grounds are very tranquil in places and were part of the original design for the Garden Village, but it does have multiple uses.

Figure 22 Watton Road Recreation Grounds, one of five lime avenues (left) and Jubilee Walk (right)
The recreation grounds are well used for sports, it has football pitches, four floodlit tennis courts, bowls greens and a well-equipped children's play area. It is used to walk through and for dog walking. Knebworth Bowls Club, established in 1913, is based there, with four outdoor bowls rinks and a small club hut. There is a pavilion, which was comprehensively refurbished, re-opening in August 2005.
Figure 23 Watton Road Recreation Grounds, children's play area (left) and floodlit tennis courts (right)

Figure 24 Watton Road Recreation Grounds, Knebworth Bowls Club (left) and Pavilion(right)
Trained leaders for Health Walks use the Watton Road recreation grounds as their start and finish points for their fortnightly health walks. The walks started in June 2016 and have proved very popular, three grades of walks are now offered by nine trained leaders. The number of walkers is increasing all the time with 38 walkers attending recently; walks end at the Bowls Club where refreshments are provided by members and proceeds go towards Bowls Club funds. The whole event helps activity levels and enables people to reap the health and wellbeing benefits that walking has to offer with the addition of social interaction.
Knebworth Tennis Club has been in existence for at least 80 years. Originally the club had grass courts but there are now four hard courts which are used all year round. A new chalet style clubhouse was opened by Stephen McPartland MP in March 2014 and in 2015 floodlights were installed on three courts. In 2017, the facilities were developed further with an outside table-tennis-table and a toilet in the clubhouse. It is a popular and well used sporting facility.
Stepping Stone Preschool operates from the pavilion making full use of the comfortable environment. The Thursday youth group, run by both paid staff and a rota of volunteers from the Knebworth Youth Project, use the pavilion as their base. It is in a convenient, central location, close to local shops and public transport.
The Recreation Grounds are also used extensively by the Knebworth Football Club, which was originally formed in 1901, and currently caters for around 350 playing members, including boys', men's, girls' and ladies' teams. In addition, there are approximately 80 volunteers to run the teams and club administration. Unfortunately, the facilities are not adequate to cater for the large number of footballers and therefore a lot of the games and training sessions require travelling to other locations such as Woolmer Green and across Stevenage.
However, all users of the recreation grounds for sports purposes have highlighted the lack of sufficient parking for their members and/or visiting teams.
Knebworth Football Club, with a current membership of around 350, both male and female of all ages, highlighted the lack of facilities in Knebworth. They have identified the following as necessary facilities to maintain or improve the sports provision in Knebworth:
All-weather pitch - to increase local capacity
Clubhouse/social hub - to provide a social space
Suitable ground grading for FA Cup - to raise the standards
Indoor sports hall - to provide a suitable local facility
7.3.2 LGS2 Cherry Close Green
This is an open informal space with an area around 0.213 HA. It is a communal open space for a large housing area (postcode SG3 6DS) and used as a social meeting place, although ball games are not allowed. It is bordered on three sides by houses that have very small gardens. There are a number of exceptional, mature trees and the grass is well maintained.

Figure 25 LGS2 Cherry Close Green
7.3.3 LGS3 Stockens Green
The Green is situated within the Stockens Green Conservation Area (postcode SG3 6DQ) with an area of approximately 0.195 Ha. It is very attractive and has the appearance of a village green, being part of the design of the Garden Village. It is an informal open space with several mature trees and well-maintained grass. No ball games are allowed.

Figure 26 The Green, Stockens Green
7.3.4 LGS4 St Martin's Green
This is an attractive, informal area in the curtilage of St Martin's Church, London Road. It is located in the middle of the village and has an area of around 0.148 Ha. It is a landmark entrance to the centre of the village, similar to a village green. There are many mature trees and well-maintained grass. No games are allowed, but permission is given for one-off events and stalls for community purposes. It is also used informally for picnics.

Figure 27 St Martin's Green, London Road
7.3.5 LGS5 Allotments, Watton Road
The allotment site has an area of around 0.160 Ha between Watton Road and St Martin's Road (postcode SG3 6AQ) and has existed for 40 years. There are approximately 15 allotment plots owned, since early 2020, by Knebworth Parish Council, they are managed and in demand with a waiting list. It is the only allotment site in Knebworth, it is very appealing and tranquil during the growing months, is used for growing food and attracts wildlife such as birds, butterflies and bees. (see also Policy KBW5 Allotments).

Figure 28 Allotments, Watton Road
KBW3 Recreational Green Spaces
Development will only be supported if it includes the creation of new green spaces, play spaces and recreational areas, in accordance with current standards. Developer contributions will be sought to fund additional easy-access leisure amenities including play/climbing equipment and informal social spaces for a wider range of young people. Development proposals must demonstrate that all new playgrounds and recreational areas are suitable for access by people of all abilities.
The areas listed below are shown as Recreational Green Spaces on the policies map. to be protected from new development unless very special circumstances can be demonstrated:
RGS1 Lytton Fields play space
RGS2 King George V play space
RGS3 Cherry Close play space
RGS4 Amenity land, Meadway
RGS5 Amenity land, Haygarth
Development that would result in the loss of all or part of these spaces will not be permitted unless they are replaced with better facilities which are at least as accessible to the local community as the current spaces.
7.4.1 RGS1 Lytton Fields play space
This is an important recreational space serving a large housing area within the western centre of the village (postcode SG3 6AZ). It has an area of around 0.418 Ha and is flanked on two sides with houses. It would benefit from gating at the entrances to make is more secure. It has a well-equipped play space with a variety of equipment for all age ranges. It has several mature trees and a large grass area which is well maintained. It is also used for ball games and dog walking. It is a significant community social space and picnic tables make it a welcoming family area.
7.4.2 RGS2 King George V play space
This recreational play space in Park Lane (postcode SG3 6PS) serves the population of Old Knebworth. The land is flanked on one side by houses, but is in a quiet, rural setting overlooking fields on the others. It covers about 0.428 Ha. There is an equipped play area, the grass is well maintained and there is a small area left uncut for wildflowers and to attract wildlife. It is a 1940's playing field in memory of King George V to "preserve and safeguard the land for the public benefit".

Figure 29 Lytton Fields play space (left) and King George V play space (right)
7.4.3 RGS3 Cherry Close play space
This is a small area of around 0.040 Ha at the rear of Cherry Close (postcode SG3 6DS), which is flanked on three sides by houses and garages on fourth side. It is used by the residents of Cherry Close. It is a small play space with equipment, used as a walk through and dog walking.
7.4.4 RGS4 Amenity Land, Meadway
This is a well-maintained grass area off Meadway (postcode SG3 6DN) of around 0.083 Ha. It is an attractive, tranquil space used for social interaction. It serves a large housing area and is important for residents to have this view to overlook.
7.4.5 RGS5 Amenity Land, Haygarth
This is an informal recreational space on Haygarth (postcode SG3 6HF) of approximately 0.068 Ha and the only green space for the residents who have no gardens. It is a well-maintained grass area with many mature trees, some of which have TPOs.

Figure 30 Amenity Land, Meadway (left) and Amenity Land, Haygarth (right)
KBW4 Valued Community Facilities
In order to maintain an inclusive village community, the following particularly valued and potentially vulnerable community facilities should be retained in community use if possible:
The Royal British Legion Hall and Social Club
The Scout Hut and Land
The Library (listed as an ACV but suspended due to redevelopment)
The Lytton Arms public house (listed as an ACV)
The Station public house (listed as an ACV)
The Valued Community Facilities and all Assets of Community Value (ACVs) listed by North Hertfordshire District Council will be retained unless they are:
no longer needed/there is no demand for; or
acquired by the community to ensure the retention of the facilities in perpetuity; or
replaced by better facilities as part of a development proposal.
7.5.1 Community Assets
The Localism Act 2011 and the Assets of Community Value (England) Regulations give an eligible community group an opportunity to identify a property or land, both privately or publicly owned, that is believed to be of value to their social interest or wellbeing and apply to have it listed. Once an Asset of Community Value is listed, a community group is allowed six months to prepare a bid for the property or land, as and when it is put up for sale on the open market. Groups eligible to nominate an Asset of Community Value include community groups, local parish councils, local neighbourhood planning forums and charities.
Knebworth Parish Council applied to list both the Station public house and the Lytton Arms they were listed in North Hertfordshire District Council's Asset of Community Value List in 2017. Buildings or land only stay on the list for five years. After this period has expired, applications can be made to re-list the asset. The provision of better facilities as the result of development could include better quality facilities or facilities that better meet local demand.
7.5.2 The Royal British Legion Hall and Social Club
The building is situated on Gun Lane (postcode SG3 6AU) and used by community groups.
7.5.3 Scout Hut and Land
This is a small hall with land on Gun Lane (postcode SG3 6BH) of around 0.031 Ha that has historical significance. It is owned by The Scout Association but used by all scouting and guiding groups of all ages within Knebworth. The hut is in poor condition, but the grass area is well maintained. The Scout and Guide leaders say that the central village location is very good, but the condition of the building is deteriorating.
Figure 31 The Royal British Legion (left) and The Scout Hut and land (right)
7.5.4 Knebworth Library
The ACV on St Martin's Road (postcode SG3 6ER) was suspended during redevelopment. The whole site including the new GP surgery will be re-listed once redevelopment is completed.
7.5.5 Lytton Arms
This public house in Park Lane, Old Knebworth (postcode SG3 6QB) was already listed as an ACV, was closed for a while after the sudden death of the licensed publican but reopened in May 2018. It has an intrinsic local character and is of historical significance.
7.5.6 The Station Public House
The public house opposite the railway station in Station Approach (postcode SG3 6AT) was listed as an ACV in February 2017, shortly before closure. It was closed subject to a planning appeal. The Planning Inspector has ruled that it should remain as a pub. It has great historical significance and facilities were used by community groups.
The Station Hotel was built in 1883 to service the new railway, making it one of the oldest buildings in 'new' Knebworth. Now called The Station Pub, the building is a prominent local landmark. A Parish Council consultation with local residents in June 2019, showed there was overwhelming support for saving this valuable social asset. The pub is now owned by Knebworth Parish Council which bought it with the help of a long-term loan from Central Government. Since then a small group has worked behind the scenes to develop a business plan, secure a loan, negotiate the purchase, select suitable tenants and complete the refurbishment. There was a very successful opening night on 14th February 2020. The pub also provides employment for local people as the tenants and staff all live in Knebworth.

Figure 32 The Lytton Arms PH (left) and The Station PH (right)
KBW5 Allotments
A minimum of 1.5 Ha of land will be sought for use as allotments across all proposed major development sites, to meet local identified demand.
There are currently 15 allotment plots in use in Knebworth. They are popular and there is always a waiting list. New residents will bring additional pressure. The current allotments were on private land owned by an absentee landlord. In June 2020 the land was offered for sale and was purchased by the Parish Council as an asset for community use. If additional demand is identified, new allotment areas will be sought within proposed major development sites.
1.5 Ha of land will be sought for use as allotments in accordance with The Allotment Association recommendations of 20 plots per 1,000 dwellings. The Allotments Act 1950 allowed authorities to make provision for local demand, and to acquire land for providing allotments. The KPC will work with developers to identify suitable sites and use the standards in the 'Growing in the Community' (2nd Edition) (LGA, 2009) guidelines for managing allotments and will seek further designated areas for allotment provision.

Figure 33 Allotments between Watton Road and St Martin's Road

back to top
back to top