Preston Parish Neighbourhood Plan 2018 - 2031 - February 2019
Ended on the 25 April 2019
9. Housing and Development
9.1 The overarching aim of this section of the plan is to deliver a housing growth strategy tailored to the needs and context of Preston. The objectives, policies and supporting paragraphs provide the basis for appropriate housing growth in support of the District Council's housing strategy and policies.
9.2 The results of the Neighbourhood Plan Survey 2017 provided an insight into the future housing needs of the existing population in Preston. Generally, people plan to continue living in Preston over the next 13 years, with only 8% of households likely to move out. However, residents may move out if they need a smaller property that isn't available in Preston (14%), or because they need to have better access to amenities and public transport (16%). When asked what size property people might need over the next 13 years, some said a house or a bungalow with one or two bedrooms or even retirement housing whilst an almost equal number of others might require properties with 3 or more bedrooms.
Other reasons given for considering moving away from Preston were if it becomes over developed (13%) or if they could not afford to move within the parish (11%).
It is important to note that when responding to the questionnaire residents were able to choose more than one category in each question, resulting in totals of over 100%. This information represents the housing preferences of local residents recorded in the survey and does not represent a housing need.
9.3 As far as development is concerned, there is a preference for: smaller developments of less than five houses (63% ) rather than one big development; In multiple response format preference was for two (58%) and three (63%) bedroom houses; houses to be similar in style to neighbouring properties (37%) but with some variation of styles (28%); semi-detached (59%) and detached (50%) housing and bungalows (31%); with 76% of respondents saying that all developments should have gardens. (This question was asked in relation to 5 or more houses in the survey in error. It is assumed that the same number of respondents would have indicated the need for all homes to have a garden without reference to 5 or more houses.)
9.4 There is support for homes to be constructed and to be run with a low carbon footprint (62% and 64% respectively) and for other sustainable features to be conditional on permissions for new homes.
9.5 Again, in a multiple response format, three fifths of residents asked that new houses be available for each of: families (62%); local people (60%); and first-time buyers (60%). Additionally, there was support for houses suitable for the elderly (46%) and houses suitable for downsizing (42%). There is also support for a range of tenures: owner occupied (69%), affordable/social rented housing (36%) and shared ownership (30%).
In addition, 76% of residents agreed that for developments of five houses or more that they should all have gardens. Only 2% preferred communal gardens and 10% thought some units should have gardens.
9.6 The results of the Neighbourhood Plan survey reflect the outcome of the Preston Housing Needs Survey 2010 which concluded that there is a requirement for 1, 2, and 3 bed units for single people and two person households who are looking to set up independent homes.
9.7 To achieve this, a thoughtful and innovative approach is required, which works positively with landowners and developers taking a continuing interest in the future of the village.
9.8 This is the approach proposed in the Plan and on the basis of this the Parish Council will look to engage positively with the statutory planning process to guide future development to provide for the housing needs and requirements of existing residents.
9.9 People living in Preston appreciate the special qualities the village possesses. It is a great place to live and in accommodating housing growth it will be vital that the qualities, which make Preston so successful, are protected. It will be important to ensure that historic and heritage aspects are enhanced and maintained as it is these key factors which contribute to the distinctiveness of the parish.
9.10 Local people accept that new people will want to come and live in Preston and this is important to any thriving and evolving community. New housing developments should be linked into or enhance the existing village network of paths and rights of way to ensure integration with the existing community.
9.11 This plan is not anti-development and the community understands the need to accommodate housing growth. However, there is great concern that new development in Preston could erode the very qualities that make the village and parish special if it is not carefully managed in terms of its scale and design. This next layer of growth must create a development of quality, contributing to the character of the village and providing local benefit. It must be more than an exercise in meeting housing supply 'numbers' by the addition of inappropriate properties. Our objective, therefore, is to enable the provision of a choice of new homes to meet the needs of all sections of the community in a manner which respects the character of the village and wider parish.
9.12 To ensure that these principles are met applications for development must identify and make proposals to address any adverse impacts such development will have on the character of Preston and its facilities, as well as on parking and public transport. Section 106 agreements should be created to support appropriate proposals.
9.13 The general trend in recent years has been for new developments nationally to be built at high densities and on a large scale. There is a strong wish within the community to retain the village feel, which means plenty of green space and small-scale development. The preference of people living in the parish is for developments of less than 5 homes as this is felt to be more suited to the village environment and a number of smaller developments will tend to support incremental development over the period of the Plan.
9.14 It should be particularly noted that the need for housing for the elderly, first time buyers and those wishing to downsize has been identified throughout the consultation process as essential during the next 15-20 years in order to support and maintain a sustainable and vibrant community. It will help future-proof the imbalance of an ageing population and declining numbers of working age adults by allowing older people to remain in the community and attract young families to settle in it.
Without more appropriate housing, older residents will either have to remain in larger houses which are difficult for them to manage or move out of the village in order to find more suitable accommodation.
Without appropriate housing for younger families, including social housing, young people will continue to be priced out of living in the village.
9.15 Any development undertaken in the parish must meet the requirements of the relevant Housing and Development Policies contained within this Plan in order to reduce the impact of building construction for local residents, surrounding properties and the narrow lanes within the village. In addition, the policies contained within the NHDC Local Plan 1996, the emerging NHDC Local Plan 2011-2031 and the National Planning Policy Framework must be adhered to. Developers must consult with power providers at the planning stage of any proposal.
9.16 National policy requires local plans to provide for a mix of housing that meets the requirements of different groups within the community. The emerging NHDC Local Plan states:
Prospective applicants should be mindful of emerging and adopted neighbourhood plans in the parish or settlement where the site is located. (Paragraph 8.5)
On most sites, targets to provide up to 40% affordable housing can be supported. (Paragraph 8.9)
The plan will seek to deliver a broad balance between smaller (defined as 2-bed or less) and larger (3-bed or more) homes over the plan period. (Paragraph 8.18)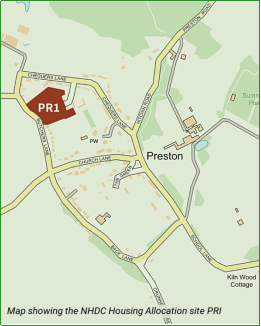 9.17 The emerging NHDC Local Plan includes one Local Housing Allocation in Preston in paragraph 13.272 (Site reference PR1 – Land off Templars Lane) for 21 homes. This site was selected by NHDC as the only reasonable option for Preston. Any other possible sites would have extended the village beyond the proposed settlement boundary. Paragraphs 29 and 30 of the NPPF state:
"Neighbourhood planning gives communities the power to develop a shared vision for their area. Neighbourhood plans can shape, direct and help to deliver sustainable development, by influencing local planning decisions as part of the statutory development plan. Neighbourhood plans should not promote less development than set out in the strategic policies for the area or
undermine those strategic policies. Neighbourhood plans must be in general conformity with the strategic policies contained in any development plan that covers their area.
Once a neighbourhood plan has been brought into force, the policies it contains take precedence over existing non-strategic policies in a local plan covering the neighbourhood area, where they are in conflict; unless they are superseded by strategic or non-strategic policies that are adopted subsequently."
The policies in the Preston Parish Neighbourhood Plan will help to achieve appropriate and sustainable development on this site in addition to the four specific criteria and the paragraph on Wain Wood as stated in the Local Plan allocation:
Consider and mitigate against potential adverse impacts upon nearby Wain Wood SSSI;
Sensitive design that considers any impacts upon the setting of Preston Conservation Area and adjacent listed buildings;
Retention of hedgerow boundary with Butchers Lane;
Detailed drainage strategy identifying water infrastructure required and mechanism(s) for delivery.
Wain Woods SSSI (Site of Special Scientific Interest) lies approximately 200m to the north of Preston and is accessed by the Public Rights of Way network. Any potential impacts that could be associated with an increase in visitor numbers to the SSSI, such as trampling of vegetation or dog fouling should be addressed through mitigation measures such as interpretation leaflets.
9.18 The Parish Council recognises and supports Hertfordshire County Council's (HCC) sustainable development guide for the county, 'Building Futures', the preparation of which was commenced in Summer 2005 through a partnership between HCC and a number of Hertfordshire local authorities. The application of the principles of 'Building Futures' is important to help meet the key strategic objectives which cover ways to improve and sustain the quality of the environment. Preston Parish Council will maintain a watching brief to assist the achievement of the aims of 'Building Futures' wherever possible.
The aims quoted by the Building Futures Partnership are to:
Place sustainable design at the heart of planning and new development
Create an integrated and consistent approach to sustainable design
Improve the quality of new development
The Objectives cover ways to improve and sustain the quality of the environment including:
Promoting local distinctiveness
Achieving sustainable development and carbon reductions in the built environment
Creating well designed places for people to live
Creating built environments that are responsive to the context of Hertfordshire
Minimising the consumption of water
Making use of alternative water sources
Effective management of surface water
Improvement of water quality
Minimising wastage
Using reclaimed/reused or recycled materials where possible
The SuDS hierarchy as set out in the NHDC emerging Local Plan will also be followed:
store rainwater for later use
use infiltration techniques, such as porous surfaces in non-clay areas
attenuate rainwater in ponds or open water features for gradual release
attenuate rainwater by storing in tanks or sealed water features for gradual release
discharge rainwater direct to a watercourse
discharge rainwater to a surface water sewer/drain
discharge rainwater to the foul water sewer.
9.19 Delivering a wide choice of high quality homes is essential to support a sustainable, mixed and inclusive community. Consultation showed that residents want to have a range of types of accommodation within the parish to meet their changing needs, with families wishing to move to larger homes, older residents able to down-size and young people to have independent accommodation. For first-time buyers within the parish, it is important that they can buy locally and not have to look beyond their own community. [In January 2019 the average house price in Preston was £1,033,106 compared with the Hertfordshire average price of £508,210 and the national average price of £309,922, with information taken from Zoopla.]
9.20 Other than for householder development, there will be a requirement for all development proposals to submit a Construction Management Plan with the planning application whatever the size of the development. The detail contained in the Construction Management Plan should be appropriate to the size of the proposal and the potential level of impact on either residential amenities and / or obstruction to the highway, irrespective of the number of residents who will be inconvenienced.
Objective H1: To ensure that any development is sensitively planned and phased over the period of the Plan protecting and enriching the landscape and built setting.
See also Policy EH1 for protecting and enriching the landscape and built setting.
Policy HD1: Size of Individual Development:
The emerging NHDC Local Plan allocation of 21 dwellings, which will include 7 affordable housing units, for Preston between 2011 and 2031 is acknowledged. The NHDC emerging Local Plan Policy HS2 would allow development to be phased, reflecting the results of the survey and a preference for a number of smaller developments (Paragraph 9.3) but at the same time to be considered as a whole for the purposes of affordable housing provision, thus ensuring this key need is met over the plan period.

Proposals for development must take these factors into account while at the same time ensuring that:
they

are

of an

appropriate

density

for

this

rural

location,

the

rural

setting

is

preserved

and
the

village

character

is

complemented.
See also policy HD4 References:

Local Plan Proposed Submission 2011- 2031: Strategic Objective: HS2, P93 Local Plan Proposed Submission 2011- 2031: Strategic Objective: ENV2, P29 Local Plan Proposed Submission 2011- 2031: Strategic Objective: ECON 6, P 30 Local Plan Proposed Submission 2011- 2031: Strategic Objective: SOC 1, P30 Local Plan Proposed Submission 2011- 2031: HS3, a i, b, P 95
Objective H2:To ensure the integration of new residents into the village new developments should link into or enhance paths and rights of way.
Policy HD2: Pedestrian Links and Rights of Way:
New
development proposals

will

be

supported

where

they

maintain

the

existing

network

and

provide

publicly

accessible

links

from

the

development

to

the

wider

footpath

network.


References:


Local
Plan

Proposed

Submission 2011-

2031:

Strategic

Objective:

ENV2,

P29




Local

Plan

Proposed

Submission 2011-

2031:

Strategic Objective:

ECON

6, P 30
Local

Plan

Proposed

Submission 2011-

2031:

Strategic Objective:

SOC 1,

P30




Local

Plan

Proposed

Submission 2011-

2031:

HS3,

a

i,

b,

P 95
Objective H3:To ensure that any development delivers a range of housing to buy or rent to meet local needs including affordable housing.
Objective H4: To support developments which have a low carbon footprint and are eco-friendly.
back to top
back to top